This Fall we will offer Half Day (8:30am-12:00pm)
and School Day (8:00am-3:00pm) programs.
In addition to our morning program, extended
hours for Lunch Bunch and Enrichment Classes
will be available five days a week.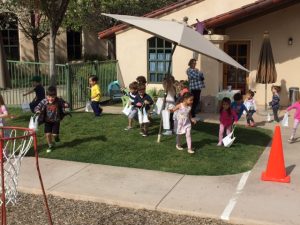 Preschool Announcements:
Picture Day is September 13th & 14th
No School: October 6th for Staff Development Day
All School Field Trip to the Pumpkin Patch is on Tuesday, October 10th
Preschool Newbury Park
Monte Vista Presbyterian Preschool Newbury Park offers programs for children eighteen months to six years old. We have a Parent/Toddler class for eighteen months to two years (or until potty trained). We have five preschool classrooms from 8:30 AM to 12:00 PM for ages two through six. In addition to our morning classes, we offer an after school lunch option. This time is a great opportunity for children to socialize while they sit around the table eating. After eating, the children get another chance to play outside until they are picked up at 1:00 PM or until they begin our enrichment classes. We offer a different class every day and our classes rotate every two months. Some of the classes that we offer include Inspired Art, Sign Language, Animal Science, Cooking and Storybook Engineering. Our classes are each a half hour in length. If your child is staying for our Extended School Day program, we have Quiet Time at 1:30 PM. If a child falls asleep, we will let them sleep until they wake up or until a parent comes to pick him/her up.
If a child does not fall asleep during Quiet Time, he/she will be given an afternoon snack at 2:00 PM and will be allowed to play outside until he/she is picked up.